Great success for the 2020 edition of the Tespi Awards – the excellence awards assigned by retail – which took place on 2 September at the Cibus Forum, in Parma.
Laica S.p.A. was awarded, in the sweets category, for the best trade press campaign for 2019: LOVE FOR CHOCOLATE.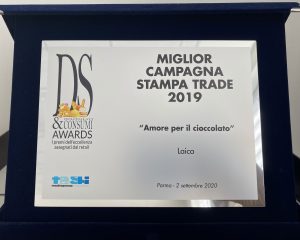 Over 130 people attended the ceremony at the Palaverdi convention center (Parma fair). The companies that distinguished themselves in the design and implementation of marketing and communication activities carried out in 2019 were awarded. The awards were given by a qualified jury made up of 60 buyers from Gd and Do, normal trade, food sector operators and journalists .